Make plans to attend The Big Event Luncheon Saturday, March 24, 2018

One of our major fundraisers is our lovely Big Event Luncheon which honors our past presidents, raises funds for scholarships, and also benefits a local charity and the Big Event program in College Station.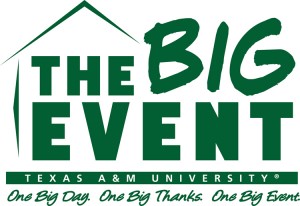 Our luncheon is always held the same day as The Big Event at A&M when our students say "Thank You" by doing community service projects for their College Station-Bryan neighbors. Big Event is the largest, one-day, student-run service project in the nation. More than 20,000 students show up on a Saturday morning, grab tools, and spend the day working. Ask your student if they're participating. If not, encourage them to do so; it'll be good for their heart. (If you don't know about the Big Event at Texas A&M, click here.)
Meanwhile, we say thank you by sharing a wonderful meal and great program. We need you to invite your co-workers, sisters, friends, and neighbors–it's perfect to share with the new, incoming Aggie moms. We have a raffle with profits going to the Big Event in College Station.
In Spring 2018 we will announce our keynote speaker and post a form to order tickets.
Meanwhile, you can plan to be a table hostess. This is a chance for you to get subtly elegant or crazy creative.
---
CONSIDER BEING A TABLE HOSTESS FOR OUR BIG EVENT LUNCHEON
If you would like to be a Table Hostess at the Big Event Luncheon, please contact Patty Murphy at epmurphy@att.net.
Table Hostess – What does a Big Event Table Hostess have to do?
As a Table Hostess, you come up with a Theme for your table, then plan how to decorate your table based on that theme. Feel free to team up with another Aggie Mom as a co-hostess!
Set your table for eight (8); use your fine china, seasonal plates, tailgate paper plates or anything that goes with your table theme. Your table should include:
–8 dinner plates/chargers (clear plastic buffet plates will be used for food and set on top of these during lunch)
–8 coffee cups or mugs
–8 water or iced tea glasses
–8 sets flatware (forks, knives, spoons)
–8 napkins (napkin rings optional)
–8 small luncheon "favors" that follow your theme
–Round tablecloth (placemats, runners, overlays, chair covers optional)
–One fabulous centerpiece that illustrates your theme!
Aggie Moms' Club will provide the food, drinks, plastic dinner and dessert plates, and cream, sugar, lemons, salt, pepper, butter as needed.
Prior to the luncheon, Table Hostesses will contact those assigned to their table, introduce themselves and let them know about the table and anything special you'd like them to bring or wear to match your theme (i.e. Rangers t-shirts for Rangers theme; Western Wear for a Texas theme)

Table Hostesses are welcome and encouraged to invite friends, relatives and other Aggie Moms to attend the luncheon and sit at your table. (All attendees, including hostesses, must purchase a ticket to the luncheon.)
The Big Event is all about giving back to the community. In years past, Table Hostesses were assigned a certain item from the Ronald McDonald House wish list to have each table guest bring to the luncheon, to be donated to the RMH of Fort Worth. We will continue with this tradition, although we may give back to an expanded list of community organizations.
About two weeks before the event, Table Hostesses will be asked to provide a short write up about their table theme for inclusion in the luncheon program.
Table Hostesses will have approximately 2 hours before the event to set up their tables.
Being a Table Hostess is a fun way to show off that beautiful china that never gets used, those special knick-knacks you've collected over the years, or to celebrate your favorite season – just let your imagination and creativity guide you!