Howdy Fort Worth/Tarrant County Aggie Moms!
We are Mothers of Texas A&M Students both past and present who have formed a sisterhood of support for our Aggie Students. We meet monthly during the school year and host events for charitable and educational purposes.
Our Fort Worth/Tarrant County Aggie Moms

Club

was the second club ever established when the Aggie Mothers' Groups began in 1922. We have fun together while supporting our Aggie Students as well as TAMU related Organizations, so come join us!
---

JOIN US FOR OUR WELCOME BACK MEETING SEPTEMBER 27TH!
Dinner will be our favorite tailgating foods!  Want to bring something? 
---
RING OF HONOR aka ROH MOMS
If you have a child that has already graduated Texas A&M, then you are a Ring of Honor Mom. This special group of ladies within our Aggie Moms' Club gets together for fun social activities outside our regular club meetings to share the successes of their graduated Aggies, worry about job searches, and lend support to each other as they move into the next phase of life.
Be sure to select Ring of Honor for membership type when joining our club and look for upcoming fun events being planned:
September ROH Mom Social Event
Join us Saturday September 18th beginning at 6:00pm on the north side of The Vin hotel on their outdoor patio between the hotel and the train tracks.Interested in attending? 
Contact Tricia Williams to RSVP by Friday, Sept 17th
via text at 817-312-1654 or email: fwtcroh@aggienetwork.comOctober ROH Mom Social Event
Join us in October for Margaritas and Dinner on the Patio at Joe T. Garcia's!
October 14th at 6:00pm
2201 N Commerce St. Fort Worth, TX  76164
Please RSVP to Tricia at FWTCROH@aggienetwork.com

Interested in attending?  Contact Tricia Williams via text at 817-312-1654 or fwtcroh@aggienetwork.com

Southwest Classic Events
Texas A&M v. Arkansas
Saturday, Sept 25th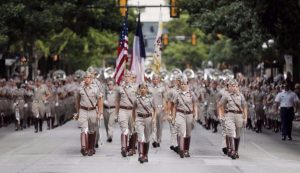 CORPS OF CADETS MARCH IN
Fort Worth/Tarrant County Aggie Moms have had a standing tradition of providing water and snacks to the Corps of Cadets and Fightin' Texas Aggie Band when they have Marched In Downtown Fort Worth prior to the Southwest Classic A&M vs Arkansas Game held at AT&T Stadium annually.
Bring your Aggie Family and join us!
RSVP to help us at: fwtcpublicity@aggienetwork.com by Sept 23rd with your name and phone number and then plan to join us at 8am on Houston Street next to the Convention Center between 9th & 11th Streets to stage for the 9am start time.
We appreciate donations for bottled water & snacks for these 2000+ Cadets which can be made at:
fwtcaggiemomsonline.com
Want to come join the March In and cheer them on?  Pick out a spot on the planned route shown below.  More details can be found on our Facebook Event page.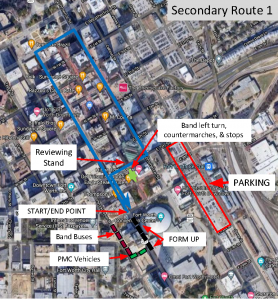 LEGAL DRAFT TAILGATE PARTY
Come join the tailgate party at the Aggie-owned Legal Draft Beer Co
in Downtown Arlington!
Legal Draft will be open beginning at 11:00am so plan to come tailgate with us before the game and stay to watch if you don't have tickets.   BTHO Arkansas!
JOIN THE YELL LEADERS FOR MIDNIGHT YELL IN THE STOCKYARDS FRIDAY SEPT 24TH @ 10PM
FOLLOW THEM ON FACEBOOK FOR MORE DETAILS
---
2021-22 ONLINE MEMBERSHIPS 
AVAILABLE NOW!
It's only $30 to join our club which supports our club operations fund to ensure all funds raised  supports our local Aggie Scholarships and Student Organization Donations.
As a member you can attend our monthly member meetings as a supportive network of Aggie Moms and gain valuable insight through our programs for providing comfort and welfare to our local Aggie Students, that will offer a better college experience during their time at A&M. You can also receive special Aggie Mom discount offers. So please join us if you have not already!
DON'T HAVE AN AGGIE MOMS CLUB NEARBY? JOIN US!
You do NOT have to be from Tarrant County to join. You don't even have to be from Texas! We have members from nearby counties whose work or schedule makes it easier to attend our meetings, though we encourage you to first check out your nearest Aggie Moms Club.
---
LOOKING FOR SCHOLARSHIP INFORMATION?
If you are a current or future Fort Worth/Tarrant County Aggie looking for college money, our scholarships are now being administered and distributed by Texas A&M University. This is good news because you do not have to go through an additional application process. Simply follow the instructions on the TAMU scholarship website and if you meet our eligibility requirements, you will be considered for the Fort Worth/Tarrant County Aggie Moms Scholarships and many others.
Here's the link on how to apply: https://scholarships.tamu.edu/  For information about our eligibility requirements, click here.
Congrats to all our Scholarship Recipients!

Incoming Freshmen
Andrew Aponte ~ Crowley
Sara Gunn ~ Arlington
Brennan Lantzy ~ Keller
Upperclassmen
Samantha Arcuri ~ Colleyville
Drew Dehaven ~ Colleyville
Morgan Gutchess ~ Fort Worth
Karisa Coe ~ Mansfield
Katherine Loomis~ Grapevine
Juan Saza ~ Euless

We look forward to introducing our recipients to you on our Facebook Page in the near future!
Way to go, Aggie Moms!!!
---


Shop on Amazon using their Smile program and we get 0.5% of every purchase! Same products, same prices, same service! And the money helps us raise scholarship funds.
Click the link below to access the FW/TC Aggie Moms Smile account. Be sure to put it in your bookmark tool so you can remember to use it when you shop.
https://smile.amazon.com/ch/75-2009247
This is an easy way for us to raise money so help us by promoting it to your friends.
---
TIME TO RENEW YOUR KROGER LINK!
If you buy your groceries at Kroger, they will give us a share of your purchases if you link your Plus Card to 26620. As part of its Community Rewards program, Kroger will give us a share of every dollar you spend at their store. If you have problems doing the linking, just visit the customer service counter at Krogers. Just tell them our NPO number is 26620. And you have to link it every year.