We are mothers of Texas A&M students–both past and present–who like to get together for charitable and educational purposes. Our Fort Worth/Tarrant County Aggie Moms Club was the second club ever established when the Aggie mothers groups began in 1922. Don't we look good for 95?! We have almost 200 members now. We do a lot of good and have a lot of fun in the process. Come join us!
---
Monday, April 23, general meeting is Mexican food and your chance to meet your new best friend!
Our next general meeting will be Monday, April 23, at 6:30 p.m. at St. Paul Lutheran Church in Fort Worth.
The scheduled speakers have regretfully cancelled on us. (Happens every year when Aggie students suddenly realize they have finals in a couple weeks! We give them extra points for putting grades ahead of moms.)
So we will have a social time where you can meet other members.
We will also be electing next year's officers!
Potluck Theme: Mexican.
---
SPRING STUDY KITS MUST BE PICKED UP APRIL 27, PLEASE REMIND YOUR STUDENT
If you purchased a Study Kit for your student, please remind (nag!) them to pick it up at MSC between 10 a.m. and 3 p.m. on April 27th.
If your student is in the band, which is out of town that day, please contact Denise Robertson at drobertson71@yahoo.com. You can arrange with her to pick it up at our April 23rd meeting but she's got to know in advance.
---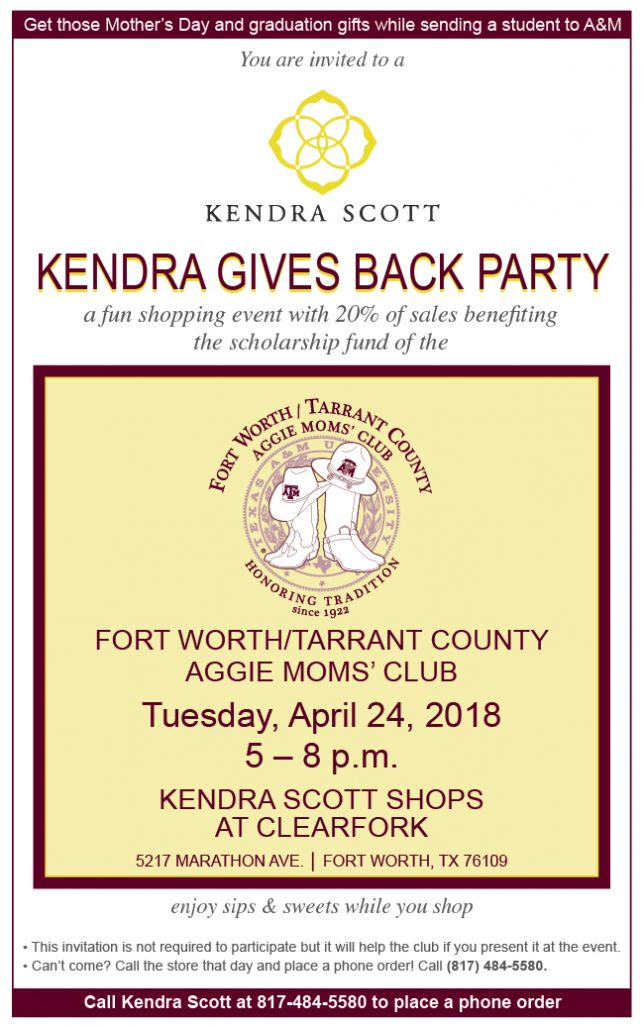 Our Kendra Scott parties are BIG fundraisers for us. Our event in October raised enough money for an entire scholarship! The more people we have the better, so please help us fill the store by promoting this event to your friends, co-workers, and family.
Here is a link to a pdf that has two fliers on one page. 04-24-2018-KendraScott2Up
We encourage you to download it, print it out, and post it at work and school.
---
Pappasito's Cantina
Monday, May 7, 6:30 p.m.
END-OF-YEAR CELEBRATION AND OFFICER INSTALLATION DINNER
2704 West Freeway, on Interstate 30 in Fort Worth
Cost $26 each, includes fajita and enchilada dinner
Cash bar
Celebrate the end of our Aggie Moms 2017-18 program year. Brag on your Seniors/Grads! Honor the current board and install the new board members for next year. Spouses, students, friends are all invited.
To attend,
or
2) Buy a ticket using PayPal. If buying online, there is an additional 90-cent PayPal fee for a total of $26.90.
---
LOOKING FOR SCHOLARSHIP INFORMATION?
If you are a current or future Aggie looking for college money, we appreciate your interest in our scholarships. We are still offering our annual scholarships but our scholarships are now being administered and distributed by Texas A&M University. This is good news because you do not have to go through an additional application process. Simply follow the instructions on the TAMU scholarship website and if you meet our eligibility requirements, you will be considered for the Fort Worth/Tarrant County Aggie Moms Scholarships and many others.
Here's the link on how to apply: https://scholarships.tamu.edu/  For information about our eligibility requirements, click here.
---
---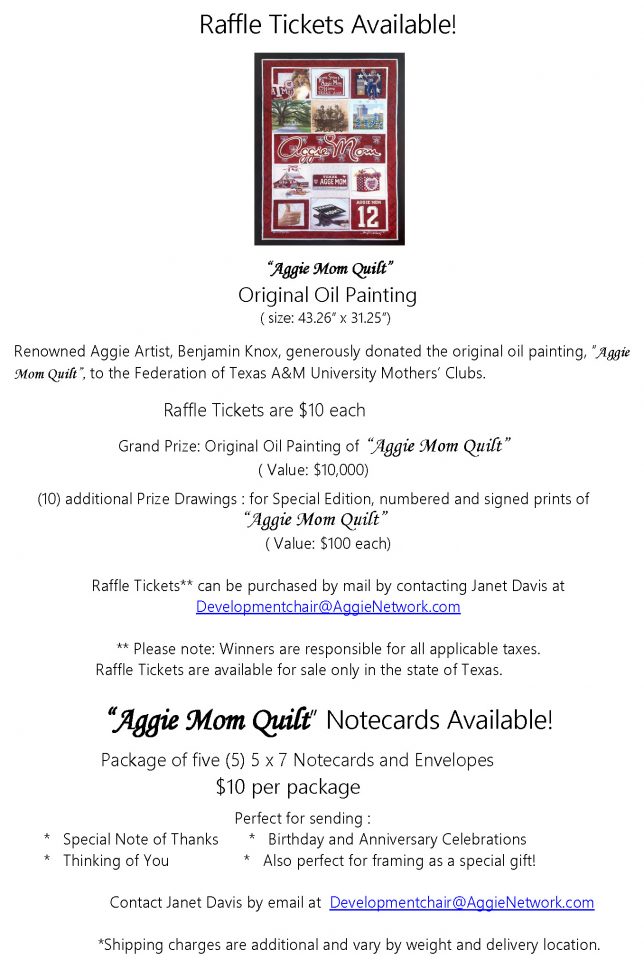 Note: The drawing above will take place on Saturday, April 14, 2018 at the end of our Federation Boutique. The Federation will sell tickets right up until the drawing is made around 4:00 pm on that day. Our Federation Rep Lisa McMillan has tickets!
---
ONLY $25 TO BECOME A MEMBER
It's only $25 to join our group and the money supports our operations fund which supports our scholarship efforts (and it gets us points with our federation). So please join.  Membership info here.
---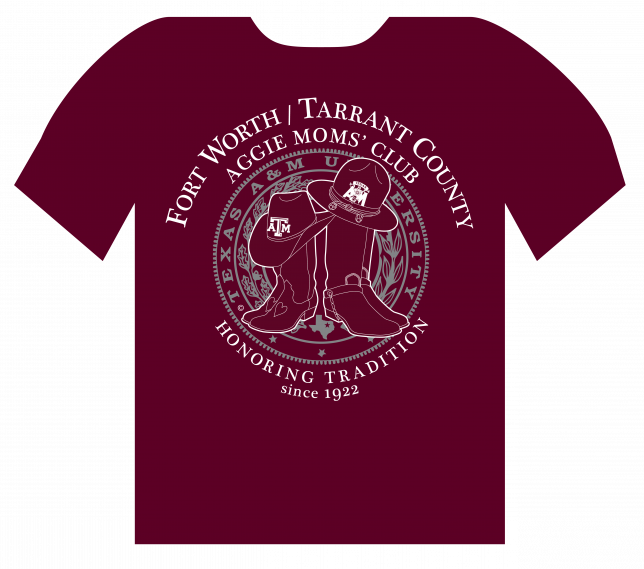 GREAT NEW T-SHIRT AVAILABLE
This year's club T-shirt is now available to order and will be for sale at each meeting. Prices are $12 crew neck, $15 V-neck, and $18 long-sleeved crew-neck. We will have S,M,L,XL, and 2X. We can order more when we get 24 of any combination of shirts. For order information, click here.
---


Shop on Amazon using their Smile program and we get 0.5% of every purchase! Same products, same prices, same service! And the money helps us raise scholarship funds.
Click the link below to access the FW/TC Aggie Moms Smile account. Be sure to put it in your bookmark tool so you can remember to use it when you shop.
https://smile.amazon.com/ch/75-2009247
This is an easy way for us to raise money so help us by promoting it to your friends.
---
TIME TO RENEW YOUR KROGER LINK!
If you buy your groceries at Kroger, they will give us a share of your purchases if you link your Plus Card to 26620.
As part of its Community Rewards program, Kroger will give us a share of every dollar you spend at their store. If you have problems doing the linking, just visit the customer service counter at Krogers. Just tell them our NPO number is 26620. And you have to link it every year.
---
DON'T HAVE AN AGGIE MOMS CLUB NEARBY? JOIN US
You do NOT have to be from Tarrant County to join. You don't even have to be from Texas! We have members from nearby counties whose work or schedule makes it easier to attend our meetings, though we encourage you to first check out your nearest Aggie Moms Club. We also have a few out-of-state moms who participate long distance. Click here to find clubs near you.
---
GET ON OUR MAILING LIST  Get on our email list. Don't miss out on important info about meetings and special events. We won't spam you and we promise never to sell or share your address. Click here and tell us to subscribe.
---
CONGRATULATIONS, 2017-2018 SCHOLARSHIP RECIPIENTS
This is what the Fort Worth/Tarrant County Aggie Moms Club is all about! This year we raised enough funds to grant 10 (Ten!!) $1,000 scholarships to current and incoming Aggies. This year's recipients are:
INCOMING FRESHMEN
• Amanda McDowell
• Macy Miller
• Morgan Peterman
• Damian Varga
UPPERCLASSMEN
• Andrew Baxter
• Daniel Ballin
• Laura Deremo
• Ross McMahon
• Monica Salas
• Kelly Xavier
• Seth Reine
• Josiah Caver
BUT THAT'S NOT ALL: Back in 1994, the club established an endowment that provides an annual stipend to a deserving student for all four years of their college career. It's called the Fort Worth/Tarrant County Aggie Moms Club Endowed Opportunity Award. The university administers the fund and selects the student receiving the award.
By the end of the 2015-2016 school year we had raised enough funds that–in addition to the scholarships granted–we made an initial $5,000 contribution toward the $25,000 required to endow a second opportunity award. This past year–the 2016-2017 school year–we were able to make another $5,000 contribution toward that second award. We will continue to push toward completing that second endowment. If you know someone who would like to help us, please have them contact us.
PLUS OUR ANNUAL GIFTS: Our club has a tradition of annual end-of-year donations to student organizations. This year our April luncheon raised $650 for The Big Event at Texas A&M. In addition, we were able to give $4,000 in support to:
Corps of Cadets
The Texas A&M Law School
Aggie Relays for Life
TAMU Women's Lacrosse
Tell Your Story
SLOT
Big Event
Aggies Transition Camp
Career Closet
MSC Abbott Family Leadership Conference
TAMU Gilbert Leadership Conference
TAMU Legacies
Taylor's Place
12th Can
Veteran's Resource Support Center
Way to go, Aggie Moms!!!
---
Gail Pigeon makes these wonderful charm necklaces that help raise money for our scholarship fund. They can be picked up at our general meetings or shipped directly to you.
---
Great gift idea: A baby Century Tree! And it benefits our club
Andy Duffie, '78, is growing and selling Century Tree seedlings as an A&M scholarship fundraiser. He has already funded a President's Endowed Scholarship (2012), an Aggie Ring Scholarship (2015), and is now working on a Sul Ross Scholarship for the Corps of Cadets.
He sells the seedlings from his web site (aggiecenturyproject.com) for $100 each. The little trees are 16- to 24-inches tall, depending upon the time of year (shorter in winter months, taller by late summer). They are one year old, in excellent condition, and are planted in one-gallon containers. Customers have the option of picking up a seedling from his home in College Station or he will package and ship a seedling by UPS to any location across the southern U.S. (where live oaks grow) for an extra $20.
For every referred customer sent by our club, he sends us $20. For us to get credit, during the online purchase a pop-up box will appear asking the customer "How did you learn of the Aggie Century Tree Project?" The customer simply enters FORT WORTH/TARRANT COUNTY AGGIE MOMS CLUB in that field – which is captured as part of the transaction.