Our group meets the third Monday of each month from September to May unless a holiday or the TAMU schedule conflicts (check the calendar to make sure). The meetings begin at 6:30 p.m. with a delicious potlucks and the program starts soon after. You bring food to share; utensils and drinks are provided. For more information, check our calendar or contact us.
Our monthly meetings are at St. Paul Lutheran Church, 1800 West Freeway, Fort Worth, Texas 76102 (see map), unless noted on the calendar. We do occasionally have events at the Texas A&M Law School at 1515 Commerce St., in downtown Fort Worth. Again, check the calendar for location.
MEETING DATES FOR 2017-2018 (all are 6:30 p.m. on Mondays unless noted)

Send us your email address if you would like to receive notices of our meetings and activities. Click here to mail: fwtcaggiemoms@aggienetwork.com
---
Next meeting: Monday, Nov. 13, 6:30 p.m. at St. Paul's auditorium (lower west side)

Bring a Thanksgiving side dish and a gift card for veteran
Study kits will be there for pick up
Representatives from A&M's Veterans Resource Center will be speaking at our meeting Monday, Nov. 13. They also give a wonderful presentation on the many  veterans who return to college after their military service.
We will collect gift cards for A&M's Veteran Support Center. The center, which helps the many military veterans studying at A&M, will distribute the cards to vets so they can provide Christmas for their families. The center recommends $20, $25 or $50 gift cards from Visa, Target, or OshGosh.
The Fall Study Kits will also be there for pick up. IF YOU CAN'T ATTEND THE MEETING, you must arrange for your Study Kit to be picked up. 
---
December—Holiday Gift Exchange TBA / Potluck: Appetizers

---
January 22–TBA / Potluck: Comfort Foods…Casseroles/Soups/Stews

---
February 19–CHILI COOK-OFF & SILENT AUCTION

---
March 19–CENTURY TREE PROJECT WITH ANDY DUFFIE / Potluck: Salads/Sandwiches…lighter fare, spring is here

---
April 23–BUILD / Potluck: Mexican

---
May: End of Year Fiesta and Officer Ceremony
---
MISS A MEETING? THIS IS WHAT WE'VE DONE THIS YEAR
Sept. 18, 2017, we had our first Aggie Mom 101 and it was a HUGE success with more than 110 moms attending. They toured the room and met members who taught them all about: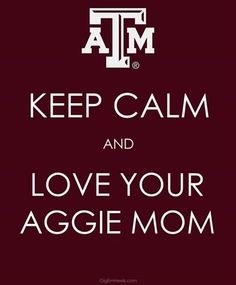 Howdy, G

ig'em, Aggie War Hymn, Spirit of Aggieland

Aggie Ring, 

MSC

Sul Ross & the tradition of the penny, 

Study Kits

Midnight Yell Practice, 

12th Man & Towels, Yell Leaders, 

Wild Catting, Yells, Reveille 

Silver Taps, 

Muster, Bonfire

Corps of Cadets, 

Fish Drill Team, Ross Volunteers, Parsons Mounted Cavalry,

Singing Cadets

Fish Camp, Big Event/Past President lunch, Family Weekend
OCT. 16: ACADEMIC SUCCESS CENTER and we celebrated our 95th birthday!
TAMU's Academic Success Center presented on tutoring, counseling, and online StudyHUB. We shared Italian food, cut into a birthday cake, and pass the book for the 12th Can.